Feature TX
Aug. 24, 2020
HOW TO USE vol.6 / KNIT TAPE SUMMARY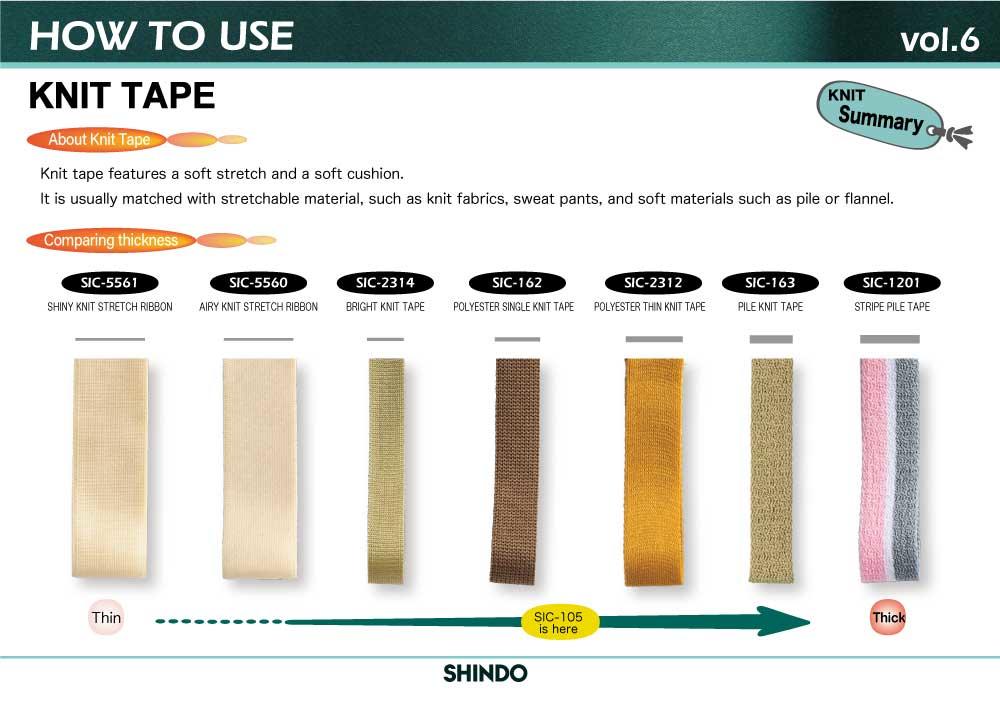 ◇About knit tape
Knit tape features a soft stretch and a soft cushion. It is usually matched with stretchable material, such as knit fabrics, sweat pants, and soft materials such as pile or flannel.
◇

Comparing bias tape to knit binder tape
●Bias tape
When using Bias tape, the edges of the tape are folded inward to a create a thicker seam. Then the tape is applied other fabric.
●Knit binder tape *Recommended
The process of applying Knit tape is simple in that it doesn't require the edges to be folded inward like Bias tape.
【
Usage

】
As a Binder tape
-Covering an edge of neck line, sleeve, front line.
As a tape type
-Drawstrings used in pants or hoodies.
-Sewing on seams.
◇

Point of sewing
Sew the tape while stretching the fabric. When you sew following curves, there is a difference in distance between inside and outside of the tape.
◇

Comparing thickness
We have 30 kinds of knit tapes in our S.I.C. brand. Hopefully this chart will help you to decide on your desired size.
Click here for more information.
https://sicen.shindo.com/products/sic-5561
https://sicen.shindo.com/products/sic-5560
https://sicen.shindo.com/products/sic-2314
https://sicen.shindo.com/products/sic-162
https://sicen.shindo.com/products/sic-2312
https://sicen.shindo.com/products/sic-163