Feature TX
May. 12, 2020
HOW TO USE vol.4/ SIC-5560 AIRY KNIT STRETCH RIBBON、SIC-5561 SHINY KNIT STRETCH RIBBON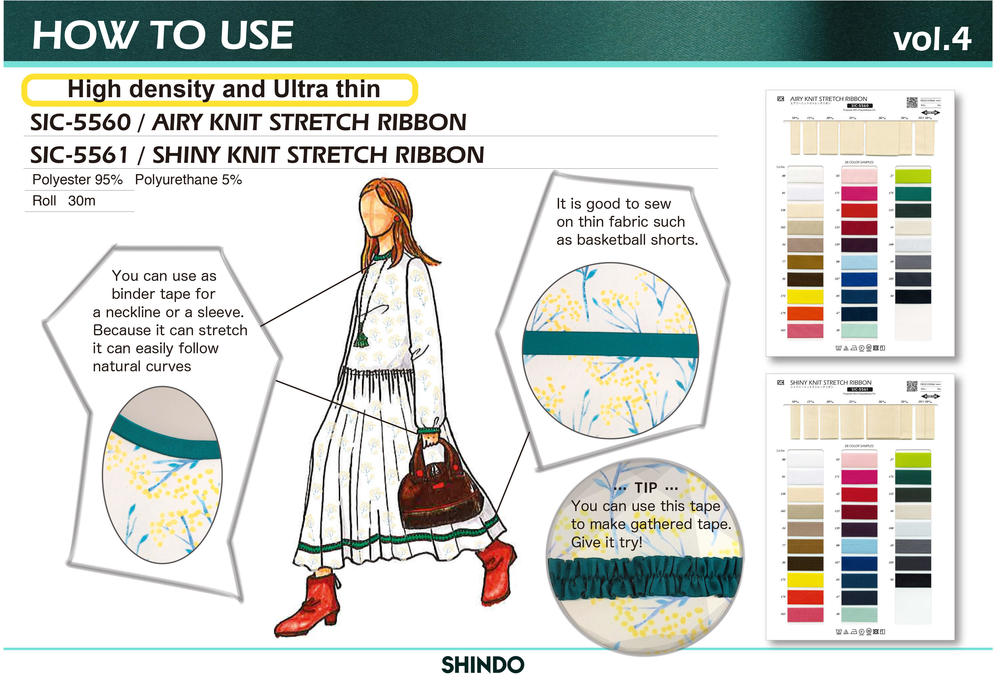 Download flyer PDF
SIC-5560 AIRY KNIT STRETCH RIBBON / SIC-5561 SHINY KNIT STRETCH RIBBON
◇Product feature
This satin finished ribbon was made by a Raschel loom with high-gauge thread.
This tape has good fitting so you can make things such as accessories.
Mat type: SIC-5560 Shiny type: SIC-5561
These tapes are developed for very thin and soft stretch fabric.
◎Bits of knowledge
"Gauge(G)"shows how many needles there are in 1 inch (2.54cm).
SIC-5560/5561 are 36G
◇Usage
You can use as binder tape for a neckline or a sleeve.
Because it can stretch it can easily follow natural curves.
It is good to sew on thin fabric such as basketball shorts.
<Tip >
You can use this tape to make gathered tape. Give it try!
Planning and Public Relations Department
Click here for more information
SIC-5560 AIRY KNIT STRETCH RIBBON